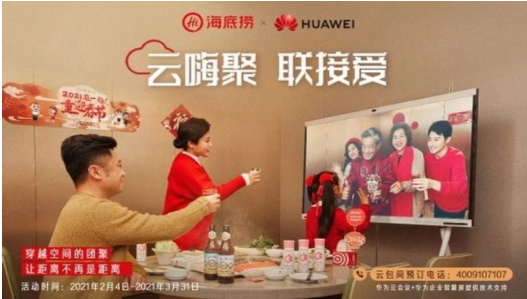 Huawei's smart screen helps smart catering, cloud gatherings become a new way of Chinese New Year

Affected by the COVID-19 epidemic, the catering industry has become another positive change after the education and office industries. With the help of new technologies, Haidilao has realized online same screen and cloud reunion.
57 stores at home and abroad participate in cloud gatherings
Haidilao Hotpot participated together with 57 stores in over 40 cities at home and abroad, covering first-tier cities such as Beijing, Shanghai, Guangzhou and Shenzhen, as well as third- and fourth-tier cities such as Xinyang, Jiangxi, and Yibin, Sichuan, as well as areas such as Thailand, Malaysia, and Indonesia.
All stores participating in the cloud gathering service have set up "cloud private rooms". Consumers can use Huawei's cloud video conferencing service and enterprise smart screens to achieve a remote communication experience with a sense of presence, immersion, and ceremony. While seeing the screen, you can also experience the same screen in different places to realize remote fun interaction.